Happy 2016! And welcome to the first of many Tuesday Treats Link Ups!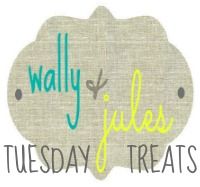 Since I am so constantly inspired by the recipes I find on blogs I follow, I wanted to start a bi-monthly opportunity for my readers to share their favorite recipes and treats from their blogs! Anything goes - from amazing appetizers to magnificent main courses...and don't forget the decadent desserts! What delicious dishes have you made recently?
After the link up party has closed, you can find each of the recipes on my
Wally and Jules: Tuesday Treats Pinterest Board
. I may even feature a few of my very favorites on my
Facebook Page
!
Here's how to link up - and a few rules to follow:
1.) Enter the link to your recipe post (not to your main blog page) in the link list below.
2.) Post my Tuesday Treats button on your blog so all your friends can join in the fun, too!
3.) Take a moment or two to check out a few of the links that strike your fancy - leave a comment or follow them if you are so inspired! Not only is this a great opportunity to expand your cookbook, but you can also find some excellent blogs to follow in the process!
4.) Answer the weekly question in the comments section below and have fun!
What are your New Year's resolutions this year?