Woo hoo! The weekend is here! I'm looking forward to some relaxation, sleeping in, and of course, the Super Bowl. Go Steelers!
And now, it's time for the Fun Friday Blog Hop. Since I've had a few people ask, I'd like to clarify that
you do not need to have a blog or link to your blog for this hop
. Feel free to link up your Facebook fan page, Etsy shop, Twitter page, or blog. Anything you want to share is great!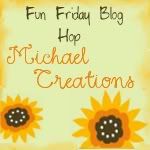 I would love it if you would participate in this week's Fun Friday Blog Hop! It will be open from 12:01am on Friday until 12:00 pm on Sunday. Here are the rules:
The rules:
1.) Follow Michael Creations. I'd love to follow back - just leave a comment so I can check out your blog!
2.) Add you link to the list - it can be a blog, an Etsy shop, a Twitter page, or a Facebook fan page.
3.) Post the blog hop button on your blog somewhere so your friends can be part of it, too! You can get the code on the right sidebar.
4.) No pressure to follow anyone...but if you find a page you enjoy, feel free!
5.) Keep it family friendly!
Have fun and happy hopping!