I can't believe it's already Friday! This week has flown by - and I'm really looking forward to the weekend! There are so many things I hope to get done...but, I'll most likely end up sitting on the couch watching some of The Tudors DVDs we got for Christmas this year. Ha! :)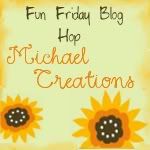 I would love it if you would participate in this week's Fun Friday Blog Hop! It will be open from 12:01am on Friday until 12:00 pm on Sunday. Here are the rules:
The rules:
1.) Follow Michael Creations. I'd love to follow back - just leave a comment so I can check out your blog!
2.) Add you link to the list - it can be a blog, an Etsy shop, a Twitter page, or a Facebook fan page.
3.) Post the blog hop button on your blog somewhere so your friends can be part of it, too! You can get the code on the right sidebar.
4.) No pressure to follow anyone...but if you find a page you enjoy, feel free!
5.) Keep it family friendly!
Have fun and happy hopping!