Happy Flashback Friday!
I'm getting SUPER excited to fly back to Minneapolis for the weekend to celebrate the 30th birthday of my
amazing friend, Steph
. I can't wait to celebrate with her, see some old friends, and hang out with the parents. I'm only home in Minnesota for about 40 hours total, but I'm going to love every second of it!
So, I don't have very many "old school" photos scanned and saved, so maybe this weekend I'll have to look through some albums. However, this is one of my favorite pictures from when I was a little kid.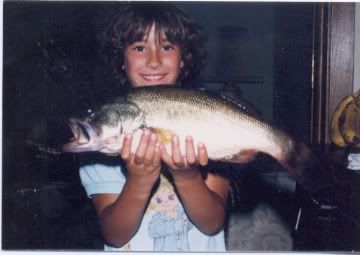 I had gone fishing with my grandpa and granda at our cabin and I was SO proud of my huge catch! It was a 7 pound largemouth bass, and he fought hard to get away from me. I don't know how long it took to actually reel him in, but it felt like HOURS in my 8 year old mind.
By the way, how much did I totally ROCK that spiral perm? Oh, 1988, you were such a bad idea.