Welcome to the first of many Saturday Show and Tell Link Ups!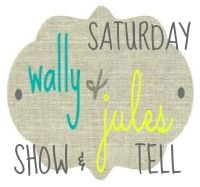 One of my favorite parts of blogging is seeing all the unbelievably creative things that people can do. So, here is your opportunity to show off your stuff! This bi-monthly link up will be open every other Saturday. Completed items are great, as are works in progress! You can brag about the latest updates to your room makeover, gush over your most recent sewing project, or make us jealous with your gorgeous scrapbook spreads! If your creative juices are flowing, this is the place to let us see what you're working on!
After the link up party has closed, you can find each of the recipes on my
Wally and Jules: Saturday Show & Tell Pinterest Board
. I may even feature a few of my very favorites on my
Facebook Page
!
Here's how to link up - and a few rules to follow:
1.) Enter the link to your show-off post (not to your main blog page) in the link list below.
Anything goes - from cross stitch projects, to sewing, from decoupage to furniture restoration!
2.) Post my Saturday Show & Tell button on your blog so all your friends can join in the fun, too!
3.) Take a moment or two to check out a few of the links that strike your fancy - leave a comment or follow them if you are so inspired! It's a great way to make new blogger friends, as well as learn about some new crafts!
4.) Answer the weekly question in the comments section below and have fun!
If you could master one skill you don't currently have, what skill would you want to learn?